German Classics
August 26 Aug 2023, 7.30pm
SOTA Concert Hall
BHSO presents "German Classics" conducted by Maestro Leonard Tan who makes his debut with the orchestra. The concert opens with Beethoven's dramatic Overture Coriolan, and features Brahms's beautiful and well-loved Second Symphony. 
Soloist Theophilus Tan, winner of BHSO's first ever Concerto Competition, performs Dvořák's Cello Concerto. A delightful evening not to be missed!
Braddell Heights Symphony Orchestra
Leonard Tan, conductor
Theophilus Tan, Cello
 Click HERE for Programme Booklet
Programme
BeethovenCoriolan Overture, Op.62 DvorakCello Concerto in B minor, Op. 104. B. 191 *Intermission*  BrahmsSymphony No. 2 in D major, Op. 73 

TICKETS VIA SISTIC

Chamber Music – Familiar Favourites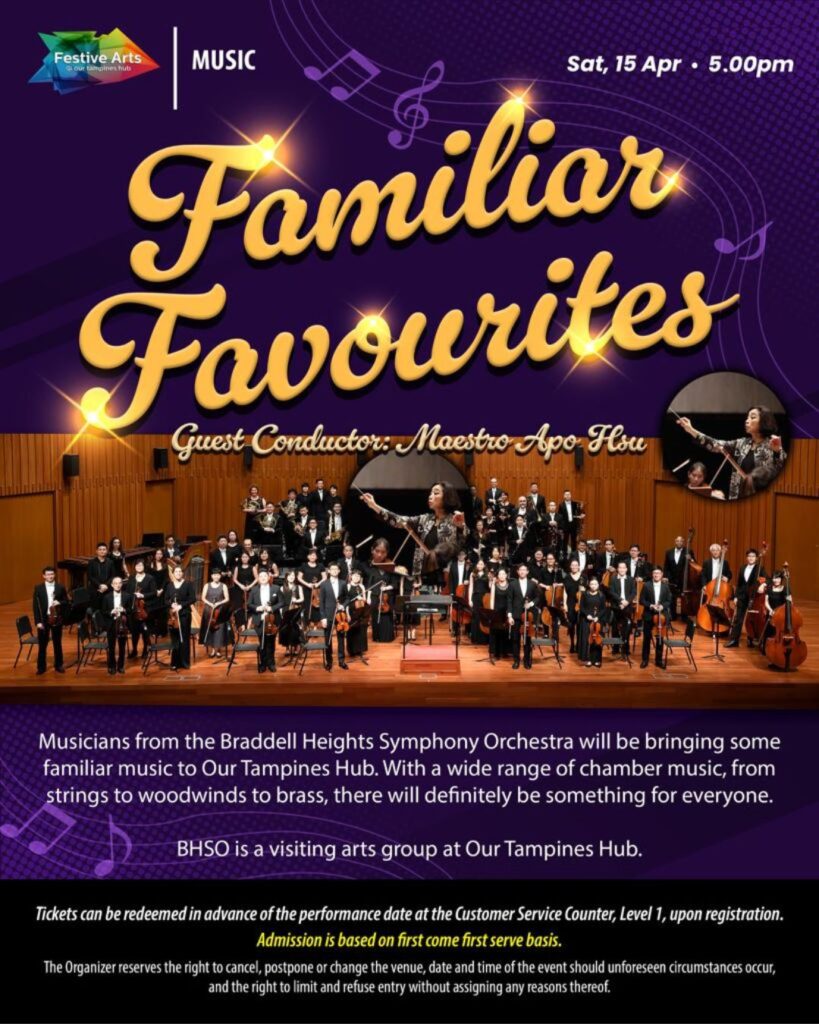 Saturday 15 Apr 2023, 5pm
Tampines Hub, Feative Arts Theatre
Musicians from the Braddell Heights Symphony Orchestra will be bringing some familiar music to Our Tampines Hub. Featuring Guest Conductor, Maestro Apo Hsu, enjoy a wide range of chamber music, from strings to woodwinds to brass. You don't want to miss this!
BHSO is a visiting arts group at Our Tampines Hub.
Tickets can now be redeemed in advance at the Customer Service Counter upon registration on L1 from 10am to 9pm daily and they are based on a first-come first-served basis.
Always Something for Everyone!
Click HERE for Programme Booklet
Programme
Taro Hakase
Jonetsu Tairiku

Kayoko Kusano
Gurenge from "Demon slayer"

Radwimps
Zenzenzense from "Your name"

Felix Mendelssohn
String Quartet No. 2 in A minor, Op. 13, 4th movement

Nobuo Uematsu
"Those Who Fight" from Final Fantasy VII (arr. Andrew Fung)

Oskar Böhme
Sextet for brass in Eb minor, Op 30, 1st and 4th movement.

Franz Doppler
Andante et Rondo for two flutes with strings orchestra

Edvard Grieg
Peer Gynt Suite No. 1