BHSO presents Edward Elgar's Serenade for Strings

Due to COVID-19 safe distancing guidelines, we have been unable to meet as a full orchestra for quite a long time. So what have BHSO musicians been doing this year? Musicians from BHSO have recorded a number of pieces over the past months, such as the Selamat Hari Raya, Racial Harmony Day, and Cinema Paradiso.
Most recently, we presented the evergreen Edward Elgar's Serenade for Strings. Here, our Conducting Fellow, Amanda Kye-Ning Tan, talks about the piece, including insights on the work and musical features to listen out for.
Below is our actual performance, recorded at the Braddell Heights Community Club with adherence to COVID-19 guidelines, which was launched on our Facebook Page & YouTube Channel on 24 October 2021, 12:00pm.
---
Dates:
03 NOV 8PM (not open for public sales)
04 NOV 3PM + 8PM (open for public)
Venue: Singapore Chinese Cultural Centre 
Featuring the music of French composer Thierry Huillet "The Little Prince, Music for Orchestra", Double Confirm Productions and Sight Lines Entertainment present the Asian Premiere of "The Little Prince – A Musical Journey" for the opening of the vOilah! France Singapore Festival 2021. Passages of the timeless text of Antoine de Saint-Exupéry, narrated by Hossan Leong, are intimately woven with the music performed by the Braddell Heights Symphony Orchestra under the baton of Chan Wei Shing.
This musical extravaganza celebrates the 75th anniversary of the publication in French of "The Little Prince" and will feature the use of hologram technology, the first time that is being used in a theatrical musical production in Singapore.
Presented in Memory of Maestro Adrian Tan (1977 – 2021).
---
Listen to our YouTube Playlist
Due to COVID-19 safe distancing guidelines, we have been unable to meet as a full orchestra for quite a long time since early 2020. Here's a compilation of the music we've performed and recorded over 2020 till today for you to enjoy!
Listen to YouTube Playlist BHSO 2020-2021 Now!
---

12 September 2021 – Braddell Heights Symphony Orchestra presents the theme from Cinema Paradiso. Due to Safe Distancing Measures, our late music director, Adrian Tan, rehearsed this piece with 24 string players with the intention to record it in Aug 2021. He departed before he could record it with us.
As a tribute to Adrian, we invited past and present members and friends of BHSO to come together and complete this recording. Thank you, Adrian, for everything you have done for BHSO.  
Facebook
YouTube
Instagram IGTV
https://www.instagram.com/ilovebhso/
---
17 July 2021 – Celebrating Racial Harmony with the Braddell Heights Constituency – Watch our musicians perform from 31:11 onwards, bringing you music from Brazil and Argentina!
It is especially memorable and poignant to us as we watch our late music director, Adrian Tan perform with us here.
We appreciate what he had contributed to all of us, and will definitely hope to keep playing on!
---
12 July 2021 – We are deeply saddened by the passing of our music director and conductor, Adrian Tan (陈志刚). He was the orchestra's beacon since 2012, and gave us the profound vision of "Music for Everyone". With this vision and his passion for music, we formed The Joy Chorale to make good music together – for the community, by the community. Today, we have lost a visionary leader, generous mentor, and dear friend. Rest in peace, and you will be fondly remembered by all of us at BHSO.

We are heartened to read all the beautiful tributes to our music director, Adrian Tan by fellow musicians and peers in the industry. Read the stories from Albert Tiu, Bernard Tan, Noella Yan, Robert Casteels, Chan Yoong Han, John Sharpley, Azariah Tan, Ho Chee Kong and Dr Chang Tou Liang.
---
13 May 2021 – The Braddell Heights Symphony Orchestra wishes all Muslims "Selamat Hari Raya" with this festive classic, and pays tribute to the great Malay pop icon Ahmad Ja'afar with this special arrangement by our very own Pearl Yim!
Ahmad Ja'afar (1919-2009) was the lead conductor of Singapore Broadcasting Corporation (SBC) Orchestra for over a decade. The respected composer of more than 60 Malay songs including all-time favourites such as Selamat Hari Raya, Ibu and Bunga Tanjung, he was conferred the Public Service Star award in 1970 and Cultural Medallion in 1981 for his great contribution to the world of Malay music. (Source: NLB Music SG)

---
It has been a year since our last concert and we miss each other & you, our audience, very much! So we got together before Christmas (virtually, of course) to put together this mini concert to celebrate the end of what has been a most trying year and to welcome 2021.
Happy Holidays & Best Wishes for the new year from BHSO & The Joy Chorale!
#PAssionArts #PassionArtsGetCreative
---
In celebration of the festivities, BHSO is proud to present our rendition of the classic 月亮代表我的心 featuring violinist Moon Chew on vocals. This creative arrangement by Mohamad Rasull incorporates Debussy's famous Claire de Lune ("Light of the Moon") and the beautiful MV was shot and directed by our very own Lee Mei Rong.
Violin 1
Amanda Kye Tan Jessica Ng Shaun Hoang
Violin 2
MinHye Kim
Go Ling Hong
Natasha Tjeng
Viola
Andrew Fung Zi Yu Lee Hwey Ping
Cello
Peh Xiang Hong
#PAssionArts #PassionArtsGetCreative
---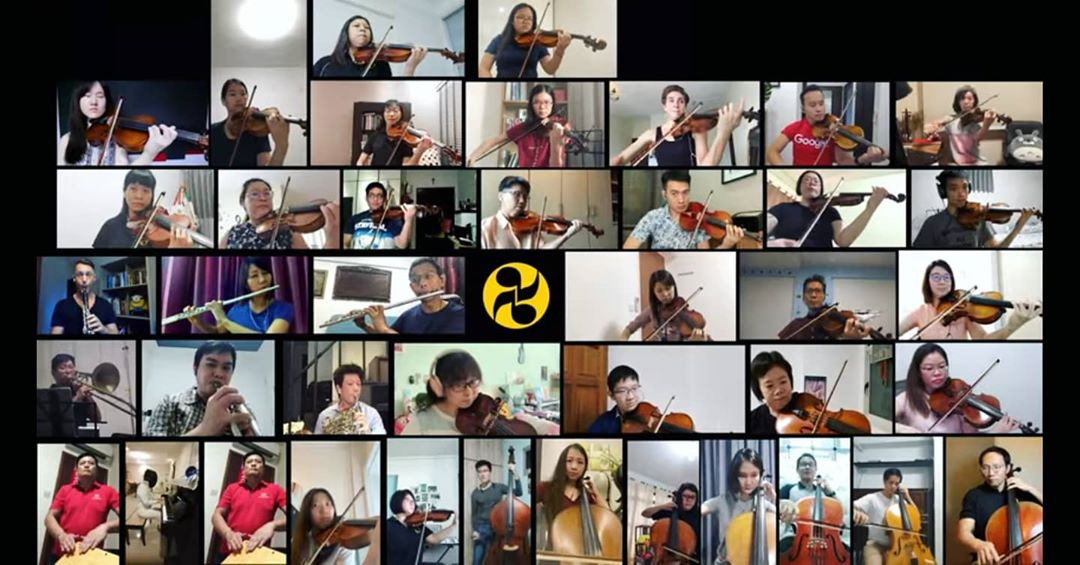 We Will Get There – Braddell Heights Symphony Orchestra (arr. Mohd Rasull)
During the circuit breaker, 40 musicians of the Braddell Heights Symphony Orchestra came together virtually to perform a specially arranged version of our NDP 2002 Theme Song by Dick Lee, "We Will Get There". We hope that this video will inspire everyone to keep looking ahead with hope and courage.
---
Just before the circuit breaker…

BHSO Chamber Music Series
ON WINGS OF HOPE

8 Mar (Sun) | BHCC Exhibition Hall | 5-6PM

13 Mar (Fri) | Armenian Church | 8-9PM


Season 2020 Auditions (on hold)
We are looking for committed players. If you are interested, please view the audition requirements and excerpts here, and  fill up this form to let us know your interest to join! >> Click here for more info
---


SUPPORT
The Braddell Heights Symphony Orchestra continues to thrive because of the generous support of our donors and sponsors. Thank you!
ABOUT
The Braddell Heights Symphony Orchestra brings together Singaporeans from all walks of life through the joy of music
CONTACT
Any questions or comments can be sent to us on the contact page!